San Diego is famous for several well known staples: Ocean Beach, Taco Stand #49, and Ron Burgandy.
Surprisingly, did you know that Mr. Ron Burgandy's fame has gone beyond the west coast metropolis of San Diego? In fact, he is now an internationally renowned broadcaster. Check out his Australian debut.
Another unexpected treat to come out of San Diego last year was the return to fantasy notoriety of several players. To begin with, Philip Rivers had quite the resurgence in 2013. Through the first five games of the season, Rivers was rated as the 4th best fantasy quarterback for total points scored in that time span. In fact, he was just 9 points out of 2nd place. However, defenses were quick to adjust. In weeks 8 – 16, he was 9th in total fantasy points and 15th in fantasy points per game. Again, you want to identify trends, not just look at seasonal statistics, in which case, Rivers came in at #5 on the year. The fact that he had a tremendous down turn half way through the season is the main reason Pyro pegs him as a bust candidate for 2014. In his first 8 games in 2013, he passed for over 400 yards three different times. He went for over 300 yards in another game, and was under 200 yards only twice. In the last half of the season, he did not produce another 400 yard day, and only had one game over 300. Look, the guy still has Keenan Allen and Danny Woodhead catching passes. But this year, Rivers is facing a 12th ranked passing strength of schedule, last year he faced #5. Rivers will still have some nice games, but he will not be a top 5 guy like last year. His current ADP as of mid-August is exactly where Pyro thinks he should be. As of our draft kit version 4, he is QB #15.
Perhaps the biggest stunner in San Diego last year was the rookie, Keenan Allen. This could very well be the key to Rivers success. Keenan Allen became the 8th rookie in NFL history to reach 1,000 yards. Of the first seven to do it, only three did it again the following year- John Jefferson, Marques Colston, and Randy Moss. Joey Galloway was only 13 yards away his second season. Two of the guys, Anquan Boldin and Terry Glenn were both injured the following year. In fact there was only one of the seven that never got there again – Michael Clayton. So, as long as Allen remains healthy, the odds are in his favor to get to 1,000 yards again this season. Last year, the kid had 5 games where he went for at least 100 yards. This is unheard of for a rookie. He ended the season with 8 touch downs and averaged nearly 10 fantasy points a game. I am highest on Keenan Allen. Both Stagg and D-rx have him in the middle teens as of version 4 of the draft kit. Dawg is the lowest having him just outside the top 20 for WR. I understand the concern, especially when you look at the decline of Rivers over the second half of last season. But, while I agree about Rivers, because it is hard to argue with trends, I disagree with Allen. In his first 8 games (he did not play week 1), when Rivers was killing it, Allen ranked as WR #41 in fantasy. During that time, Allen averaged 8.7 fantasy points per game. He totaled 568 yards and 3 TDs. In his last 7 games, he was fantasy WR #12, he averaged 11 fantasy points per game. He had 478 yards (in 1 less game mind you), and a total of 5 touchdowns. As of mid-August, his ADP shows him going in the 3rd round as the 11th WR off the board. To me, that sounds just about where he will finish. He has a rough schedule right out of the gate, but then has some nice match ups the rest of the way. If you don't land him in your draft, he is a guy to target in a trade after week 2 or 3.
Keenan Allen is so revered for his skills, other players have been known to bow in his presence.
If the Chargers could only have a second WR emerge, it would be fantastic for all involved, including Allen. Currently however, no one seems to be stepping up. Number 2 on the depth chart is Malcom Floyd. Floyd's 2013 season was cut short due to injury. He has the talent, and has been the talk of the camp so far. However, since the guy came into the league, he has played a full 16 game season just once. In all that time, he has one 200+ yard game, and just nine 100+yard games. He is one of those guys that will not make my rosters.
The Chargers also have Vincent Brown, Eddie Royal, Dontrelle Inman, Seyi Ajirotutu, and rookie Tevin Reese. There was some pre-draft talk last year about Brown, who was returning after an injury in 2012. Brown looked decent enough in 2011, his rookie year, to spur hopes for a productive 2013, it amounted to one game over 100 yards and one total touchdown. Of course we all know of the Eddie Royal super hype that burned some eager fantasy waiver wire bidders. It breaks down to this, in current ADPs, they rank the top 60+ wide receivers. As of mid-August, only Keenan Allen makes the list.
So, if the Chargers ranked 4th in the league for passing yards per game last year (270.5), who was catching those balls beside Keenan Allen? When all was said and done, only 52% of their passes went to wide receivers.
Without a doubt, Danny Woodhead saw the vast majority of those passes. In fact, if he would have had two more receptions, he would have led all RBs with receptions out of the backfield. As it is, he finished one behind Pierre Thomas with 76. Woodhead totaled 605 receiving yards and 6 receiving TDs. His receiving yards were second most in the league for running backs, behind Jamaal Charles. He had over 1,000 all purpose yards. He ran for 429 yards and an additional 2 TDs. This is a contract year for Woodhead. He is a PPR monster. In those leagues, he finished #12 in scoring, and going into 2014, Pyro likes him better than Ryan Mathews. Heck, in standard scoring he still finished at #19. Woodhead is going in the 8th round as of mid-August in 12 team leagues. He is going one round earlier in PPR formats. Even in standard scoring, he is going after guys like MJD and Darren Sproles. Pyro likes Woodhead better than both those cats. There is a very real possibility that Woodhead could lead all running backs with the most receptions this year. Personally, my money is on Shane Vereen for those honors.
Dawg has mentioned Woodhead's video game like stats from college. And boy… he ain't lying.
While Woodhead has an impressive NFL career so far, the guy just can't get the recognition he deserves, literally. Check out this video from when he was a Patriot. He went undercover at a local sporting goods store trying to work the sales floor pushing his own jersey.
His counterpart in the back field is the divisive Ryan Mathews. Fantasy players either love him or hate him. With Woodhead there, Mathews only caught 26 passes last year.2013 was the first time in his four year career he played all 16 games. He totaled 1,255 rushing yards on the season, scored 6 rushing TDs, and maintained a 4.4 average. Again, with Woodhead there, his role in the receiving game was reduced. He only caught 26 balls for 189 yards and one TD. Look, the guy had himself a year in 2013. He had six games with at least 100 rushing yards. But, that was something that did not happen once in just the previous season. He flat out scares me. He has real trouble staying on the field, and seems to be hot and cold when healthy. Woodhead goes in round 8 in standard formats (7 in PPR), and Mathews is going in round 4 in standard and round 5 in PPR. I still think Woodhead is a better value in a standard leagues and a flat out better player in PPR. Check out our latest PPR mock draft podcast.
In fact, I have moved Woodhead up since our PPR mock draft and would probably take him over Lamar Miller next time round. This is why mocks are so important. Especially when it is PPR, my tiers change considerably. In a standard league, I like Miller's potential in B. Lazor's offense this year, but you can't argue with Woodhead's value in PPR, it makes that much of a difference.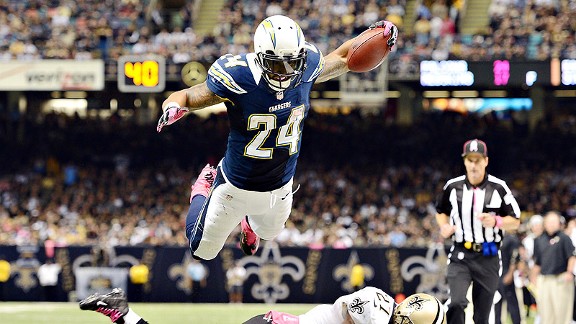 If you buy into the handcuff philosophy, than you realize, Woodhead's role would not change significantly if Mathews went down. Chances are, the work load increase would go to either Donald Brown, or Branden Oliver. Last year, when Ronnie Brown was in San Diego as the 3rd string guy, he only received 53 touches. Keep in mind, Mathews played in all 16 games in 2013. The team has said that Mathews will be their rushing back and the 3rd stringer will likely only receive 3-5 touches a game. They are paying Donald Brown a nice chunk of change for merely a backup role. This might mean they hope to get him more involved, but chances are this is just a high insurance policy in case the oft injured Mathews goes down. There is also rookie Branden Oliver. Man, you gotta love the preseason. It is far too easy to get excited about guys and think you have found a diamond in the rough. Oliver looked nice in the first preseason game. He had 64 yards on just 7 carries and scored a touch down. Going beyond the box score, the rookie looked good. He was decisive when he hit the holes and had a burst of speed when he got beyond the line of scrimmage. Then, there was the second preseason game. While he led all backs with 9 carries, he only had 14 yards. Look, if you are the brave soul that ends up drafting Mathews, chances are his handcuff will be on waivers… if you want him when the time comes.
For the first time in many a blue moon, Antonio Gates is not our favorite tight end in San Diego. Gates, although having a decent year in 2013 is rated in the early 20's for version 4 of our draft kit.
It has been a long, good run. Ladarius Green is ranked higher than old man Gates. Even most of the douche canoes sites are hip to this one. Now, some of the Pyro boys are still holding on and putting the two in the same tier. D-rx and Staggs are the highest on Gates, with Dawg the lowest. As of mid-August, in 12 team leagues, Green is being taken in round 10 and Gates in round 13.Green is entering his third year, which is generally when the light clicks for most NFL tight ends. Gates on the other hand has been in the league since 2003. Last year, Gates had 10 receptions once. That was his highest production in any game and that came early on in the season, week #4. He broke 100 yards just twice (week #2 and week #4). In weeks #5 – #16, Gates ranked as the 20th best fantasy tight end. He averaged a mere 4.7 points per game in that span. That is not considered a trend at that point, that is writing on the wall.
Defensively, I am staying away. They do have a decent kicker. Nick Novak should finish just inside the top 10, but hey they are kickers, nobody really knows for sure with those guys. Generally, I like to go for kickers that are on high scoring teams. San Diego ranked 12th in offensive scoring last year with 24.8 points per game.
By Mo